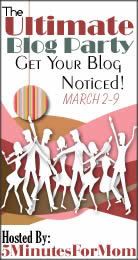 How fun is this? I recently discovered this really fun website (thanks IDAT) with a ton of neat stuff. They have contests and theme days and a lot of other ways to interact with other bloggers. This blog party is just a way to get to see some new blogs and to get people to your blog and to make new friends. Check it out if your a blogger and a woman. You don't have to be a mom to get involved.

One of the themes this site does is "Tackle It Tuesday". The idea is to post a picture of a house project that you want to tackle and then post another picture after it's done. After I've tackled getting the camera to work I'm going to do my first TiT post. (Because that's what this blog needs, more tit talk.) Ack! Do I really want to air all my dirty laundry? Literally?

I think it will be a good thing. Just reading what some of the other women did inspired me to put away 3 baskets of clean laundry, load and unload the dishwasher, pick up the living room, put new pillowcases on all the pillows, scrub the toilet and go through a pile of Joseph's school stuff. And I haven't even done my main tackle yet! This can't be a bad thing!